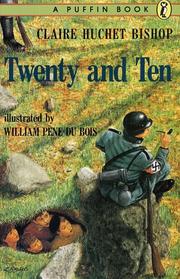 Twenty and Ten. Claire Huchet Bishop. Illustrated by William Pene du Bois. 1952/1978. 76 pages. [Source: Bought]
First sentence: It all started when we were playing at The Flight into Egypt. Make-believe. It was in the schoolyard, at recess time, right after the Christmas vacation, beginning of the year 1944.
Premise/plot: Twenty fifth-graders* under the care of Sister Gabriel welcome ten Jewish children into their lives and agree to risk their lives to save them and hide them from the Nazis. This short little children's novel is set in France during the Second World War.
In the first chapter, the twenty children are introduced. The story is narrated by Janet, the one playing Mary when the story opens. Other key characters are George, Philip, Henry, Denise, and "baby" Louis. By the end of the chapter, Sister Gabriel brings them together to tell them a secret. They'll be joined by ten new children, all Jews. The children are excited to 'be Egyptians' and help save Jews from their persecutors. They see Hitler as a modern-day King Herod.
In the second chapter, one of the new children, Arthur, offers Henry a piece of chocolate. Henry offers to share with Janet. They devise a hiding place so none of the other children can steal it. Chocolate being a big, big, big luxury of course.
In the third chapter, the children discover that 'their' chocolate is missing. Denise has taken it. But in her flight, she fell into a CAVE. Arthur, Janet, Denise, and Henry are the four children that now know of this cave.
In the fourth chapter, Sister Gabriel leaves the children on their own to go to town and get the mail. She's hoping that some of the children will have received care packages containing food. But while on their own, the Germans come. The children are once again playing 'Flight into Egypt' and so spot the Nazis before they are spotted. They tell Arthur to lead the other Jews to safety and to hide in the cave immediately. The Jews are safe, but, the Germans are suspicious and determined. The Germans can't get ANY of the children to talk…about anything…let alone about hiding Jews.
In the fifth chapter, the Germans take out their secret weapon….oranges and chocolates. Will any of the children talk now?
My thoughts: This one was short but lovely. I really enjoyed reading it. I would definitely recommend it. It has just enough action and intensity for young readers--third to fifth graders--but isn't too much, too soon. The writing is also very well-paced.
*Well, nineteen fifth graders, and one four-year-old brother.
© Becky Laney of
Operation Actually Read Bible