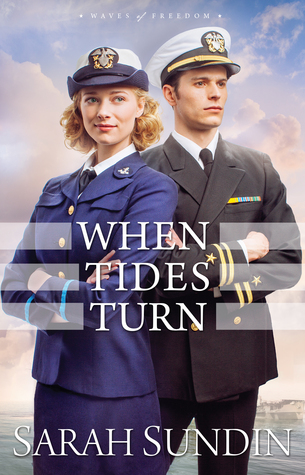 When Tides Turn. (Waves of Freedom #3) Sarah Sundin. 2017. Revell. 285 pages. [Source: Library]
First sentence: A touch of kindness and enthusiasm could transform a person's spirit, and Quintessa Beaumont delighted in participating in the process.
Premise/plot: When Tides Turn is the third book in the Waves of Freedom trilogy. Tess--Quintessa--is the heroine. The book series is set in Boston during the Second World War. In this one, Tess decides to join the WAVES and do her part for the war effort. After training, she is stationed back in Boston--to her surprise--and her job is to supervise the other WAVES and to be in charge of the war bond drives there in Boston. Her new job has her working closely with her crush, Dan Avery.
Dan Avery has always resisted the idea of love and romance because he wants to stay focused on his career. But being around Tess and getting the chance to know her better is beginning to influence him. Maybe a family life is just as important as a professional career. But will the war allow them to have their happily ever after?
My thoughts: I love, love, love Sarah Sundin. I find her books to be enjoyable and satisfying. I've enjoyed spending time with all the young women and men who have starred in the series. I like the fact that the books are in a series and that you really never have to say goodbye to the characters you've become attached to.
© Becky Laney of
Operation Actually Read Bible