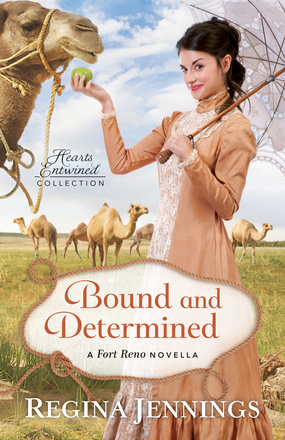 Bound and Determined. Regina Jennings. 2018. Bethany House. 125 pages. [Source: Library]
First sentence:
August 1885
East of Fort Reno, Indian Territory
"I don't want to die on an empty stomach. Oh, please, don't let me die hungry." Private Morris smashed his had down flat as he leveled his pistol against a shelf of rock.
Premise/plot: Ambrosia is bound and determined to stop her father's plan of herding camels. Her father, a retired captain, is convinced that camels are the next big thing--that camels are better equipped for the old west than horses. His daughter is not convinced. Her plans to sabotage him before their journey begins...fails. Private Bradley Willis is unlike the other men who've been easily spooked by the camels and Ambrosia's lies about the camels. Willis doesn't scare easy. Soon both father and daughter realize that he's one of the most courageous men they've ever met. Will Ambrosia and Private Willis make a match of it?
My thoughts: I liked this one. I really did. It was a quick read. It was silly, but it was an intentional silly. (You know how some Christian romance novels are over-the-top silly but you get the idea that they're not meant to be? You feel that they're meant to be taken seriously as DRAMA.) This was just what I needed after reading Mary Connealy's The Tangled Ties That Bind.
© Becky Laney of
Operation Actually Read Bible